Produce Retailer of the Years
2022-PRODUCE RETAILER OF THE YEAR: MAKRO (THAILAND)
Makro (Thailand) took out the Produce Retailer of the Year Award.
Thailand's leading wholesale chain was recognised for its commitment to suppliers and for the efficiency of its operations.
Introducing the winner, Hey said Makro stood out for the success of its centralised ordering system, with smooth management of product from DC through to store. "Makro runs ordering and programmes with suppliers very effectively," he noted. "With good information flow and efficient systems, it ensures its stores are well stocked, delivering quality fresh produce to B2C and B2B customers."
Makro was also singled out for its success in building direct sourcing relationships with suppliers. "Makro displays a professional and pragmatic approach in dealing with suppliers," said Hey. "This has helped it to develop strong supply partnerships."
With a mix of B2C and B2B customers and close to 150 stores across Thailand, Makro is effective in retailing high volumes of fresh produce, Hey pointed out. In addition to promoting sales of imported fruits, it has undertaken extensive promotions to support local fruit growers in Thailand, especially during the pandemic where export trade has been impacted.
Makro was one of Thailand's first wholesalers to develop an omnichannel business in 2019, and it has begun to offer sales of fresh fruit online.
Makro Thailand's chief executive officer Tanit Chearavanont accepted the award.
"Makro is honoured to receive the Produce Retailer of the Year Award. It is a great encouragement for us to continuously strengthen our quality and deliver a better customer experience both online and offline," said Chearavanont.
"The award is also proof of Makro's commitment to be a trusted partner to customers. This is only made possible by the dedication of our commercial team, suppliers and growers as well as our store operation staff in 147 locations. They all work tirelessly to ensure only fresh and high-quality fresh produce is delivered to our customers."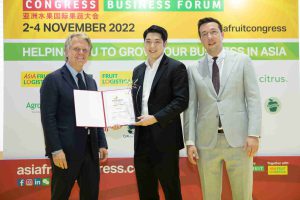 2021- Produce Retailer of the Year: NTUC FAIRPRICE
NTUC FairPrice took out the Produce Retailer of the Year Award, becoming the first retailer to win the award for the second time.
FairPrice, which won Produce Retailer of the Year in 2014, was again singled out for its impressive performance in Singapore's highly contested grocery retail market.
"At a time when brick and mortar retailers are under pressure from online, FairPrice has done much innovative work to reinvent the large retail format," said Hey. "It has been enhancing the shopping experience for consumers in larger stores. Fresh produce has played a key role here, with bigger sections offering wider range and premium quality as well as more tailored offerings for key demographics."
The retailer has been leading the way with digital integration in-store. It has rolled out a new Scan & Go app, enabling shoppers to pay directly with their mobile phones.
FairPrice was also recognised for its effective response to the pandemic on several fronts. The retailer launched FairPrice on Wheels, using vans as mobile stores to reach elderly and more vulnerable consumers in residential areas.
Online grocery has significantly increased its market share in Singapore since the start of the pandemic, and FairPrice has ramped up its omnichannel capabilities to manage rapid fresh produce deliveries to consumers.
Andy Chang, director (fresh and frozen) for FairPrice Group's Retail Business, said the retailer was honoured to become the first "two-time recipient" of the award.
"We extend our gratitude to our suppliers who have worked tirelessly with us to ensure we continue to delight and excite our customers, whose needs and lifestyles are continually evolving and changing," said Chang.
"We endeavour to continue innovating and pushing boundaries, curating a diverse range of produce that offers the best quality and value to our customers."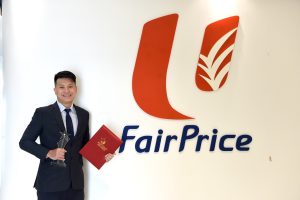 2020 - Produce Retailer of the Year: JD FRESH
JD Fresh, the fresh food arm of Chinese e-commerce giant JD.com, won the Produce Retailer of the Year Award.
JD Fresh was recognised for the strides it's made in fresh produce retail on a number of fronts. Winning government acclaim for its response to the Covid-19 crisis in China, the e-commerce giant significantly expanded its share of fresh produce sales during the pandemic as consumers switched to buying groceries online.
In addition to its gains in e-commerce, JD has continued to drive the digitisation of fresh food retail China. It has expanded its chain of high-tech supermarkets, 7Fresh, launching new stores and formats. JD also set up its first franchised community fruit stores under the Jingxuanhaoguo banner, a model under which it can apply its brand and its strength in procurement and high-tech solutions to existing mom and pop stores in neighbourhoods.
JD has undertaken a number of large-scale and innovative marketing campaigns for fresh fruit, including 618 and other high-profile shopping festivals. It became the first e-tailer in the world to forge a direct supply agreement with Zespri and delivered the first box of kiwifruit for the season with its autonomous robot.
On the production side, meanwhile, the company continued to invest in developing its JD Farms in key domestic and global growing regions with hi-tech packing and distribution infrastructure. It also forged ahead with its push to transform Chinese agriculture through smart technology, opening a new hi-tech greenhouse growing vegetables near Beijing with the help of Mitsubishi Chemical.
"This has been a landmark year for JD Fresh – it has emerged from the Covid crisis even stronger, with a bigger share of fresh produce sales," said Hey. "JD has boosted its capabilities in fresh produce sourcing and distribution, and it's made significant advances in digitising retail and production."
Purchasing manager of JD Fresh Una Wang accepted the award. "The Produce Retailer of the Year Award is a fantastic recognition from the fresh produce industry of the efforts our team has made this year," said Wang. "It inspires us to perform even better in the future, leading the e-commerce fresh produce business in China."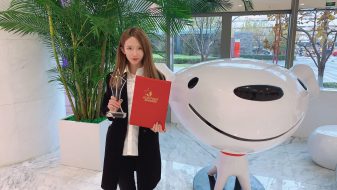 2019 - Produce Retailer of the Year: YONGHUI SUPERSTORES
The Produce Retailer of the Year Award went to Yonghui Superstores, one of China's fastest-growing grocery retailers.
In the face of fierce online competition, Yonghui was singled out as a brick-and-mortar retailer that has successfully adapted its operations to meet the changing needs of Chinese consumers with more premium fresh food offerings and the development of a 'New Retail' model.
Yonghui's core business comprises hypermarket and supermarket formats under the YH Superstores and Bravo banners, as well as its smaller sized neighbourhood format YH Mini.
Through its separate supply chain and logistics service business, YH Yunchuang, the retailer has expanded rapidly with convenience store format YH Life (formerly YH Membership) while developing an experiential 'New Retail' supermarket format Super Species.
Fresh produce has long been one of Yonghui's core strengths, underpinned by a focus on direct sourcing and a strong buying team, and underlined by the retailer's private label for fresh food, Hey noted. More recently, fresh produce has become a key differentiator of Yonghui's offering as the retailer works to cater to consumer demand for a wider range of products and services in China.
Yonghui stores stock an assortment of fresh produce, including a mix of private label and third-party brands. This includes an impressive depth and range of imported fruits.
Buying online and fresh convenience are two other headline consumer trends in China, and Yonghui has incorporated online delivery with packaged products, with many of its stores supporting delivery within one hour.
President of Yongui Superstores, Li Guo, said the group was greatly honoured to receive such a prestigious award.
"We have developed more than 700 large and medium-sized superstores and more than 500 neighbourhood stores across 23 provinces nationwide," Li noted. "We're actively and continuously strengthening our in-store services and home delivery business to create an online-to-offline, omnichannel retail model, and to bring a better consumer experience to customers."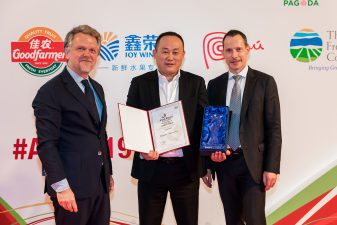 2018 - Produce Retailer of the Year: RANCH MARKET
The Produce Retailer of the Year Award went to Indonesia's Ranch Market. Formed in 1998, Ranch Market has become Indonesia's leading supermarket targeting upper class consumers with high-quality imported as well as domestically-grown produce. The group operates more than 35 stores under two main banners – 15 branded as Ranch Market, which caters to top-end consumers, and 20 branded as Farmers Market, which have a slightly larger store area and feature more locally-grown products.
Ranch Market group was recognised for its clear-sighted customer focus and its impressive work in promoting fresh produce in the Indonesian market. "The group has raised the bar to a level that has forced others to follow suit, and Indonesia's predominantly young, growing and aspirational middle class has responded positively to this offer," said Hey.
Ranch Market's CEO Meshvara Kanjaya accepted the Produce Retailer of the Year Award. "This award has very deep meaning to us," she said. "It's not only a recognition from such reputable organisations of our dedication to fresh, it's also a motivation and a reminder to our team to keep doing their very best in fresh."
"Our dedication and achievement in fresh produce is not solely the work of Ranch Market's team – it's a collaboration with suppliers, importers, growers, marketing and trade officers and also all our customers. I'd like to take this opportunity to thank them all."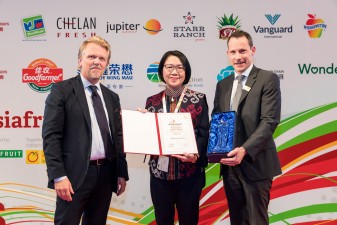 2017 - Produce Retailer of the Year: HEMA SUPERMARKET
The Produce Retailer of the Year Award was presented to Hema Supermarket for the success of its pioneering new online-to-offline (O2O) retail concept, which brings fresh produce to the fore. Having opened around a dozen stores in China in little more than a year, the Alibaba-backed retailer has broken ground with its innovative model. The in-store experience is critical for Hema Supermarket, with its expansive stores offering a wide range of premium fresh foods as well as cooking services where consumers can purchase foods and have meals prepared on site.
The stores also function as distribution centres processing online orders. Shoppers can order from Hema by mobile app at home, and have fresh produce and meal solutions delivered inside 30 minutes within a 3km radius of the store. There are no cash or credit card transactions – all payments at the store are made through Alibaba's Alipay app, saving time and allowing Hema to collect valuable consumer data, which can be used to improve its service and boost customer loyalty.
"The integration of online and offline retail channels has been a dominant trend in China over the past year," said Hey. "Hema Supermarket has demonstrated how the two can be bridged successfully in fresh food, while also setting a precedent and new expectations in terms of the consumer experience." Hema Supermarket's senior merchandising director Paul Sheh collected the award.
"I'm so proud to stand here to receive this great award on behalf of Hema Supermarket. As a new retail model, Hema is committed to delivering a faster and fresher shopping experience to our customers using a combination of technology and supply chain innovation," he said. "To Hema and all of our team members, the ASIA FRUIT AWARD is a huge honour and encouragement."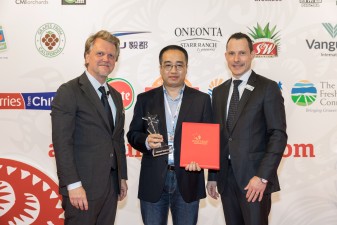 2016 - Produce Retailer of the Year: SAM'S CLUB CHINA (CHINA)
The Produce Retailer of the Year Award went to Sam's Club China. The Walmart-owned membership-only warehouse club has carved out a niche in the Chinese retail market, servicing the needs of the country's high-end consumers. While operating around a dozen stores in China, four of them are now ranked in the top ten of the 800-plus Sam's Clubs worldwide. Fresh produce is playing a key role in Sam's Club China's gains, where the retailer has succeeded in targeting high-end customers with high-quality fresh food in new formats. "While Chinese consumers traditionally shop daily for fresh produce, and would not typically drive across a city to buy fresh foods in larger pack sizes, Sam's Club has seen them doing just that," said Hey.
Sam's Club has introduced more western ways of merchandising to high-income shoppers, selling pre-packed produce in a market where consumers typically prefer to handpick their own, he noted. By focusing on a slightly narrower number of SKUs than a full-service retailer and developing supply partners that understand its business, Sam's Club has also been able to pre-select premium products for its busy and wealthy consumer base.
"It's most encouraging to see that the recognition we're receiving for our fresh foods quality focus from our members is also being noticed by the industry," said Sam's Club China's chief merchandising officer Neil Maffey. "The parnership with our suppliers is enabling us to deliver great produce in great packaging to our members and this is why we are seeing huge growth in this area of our business."
The three winners of the ASIA FRUIT AWARDS were presented with their trophies and certificates by Wilfried Wollbold, commercial director of ASIA FRUIT LOGISTICA organiser Global Produce Events, and Chris White, managing director of Market Intelligence, which publishes Asiafruit Magazine and organises the ASIAFRUIT CONGRESS.
The ASIA FRUIT AWARDS were presented before the Networking Lunch at ASIAFRUIT CONGRESSS, Asia's premier fresh produce conference event held in Hong Kong. The conference sets the scene for ASIA FRUIT LOGISTICA, which takes place on 7-9 September at AsiaWorld-Expo Center.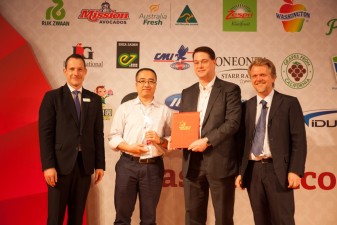 2015 - Produce Retailer of the Year: PAGODA (CHINA)
Chinese fruit retailer Pagoda Orchard Industry Development Co clinched the Produce Retailer of the Year Award. Having opened its first store in 2001, Pagoda has spread its wings in the past few years, and recently opened its 1,000th store in China.
The boutique retailer, which sells premium local and imported produce, was commended for its assiduous efforts to select the best product for its customers, underpinned by work with growers and supply partners and its direct import sourcing efforts. Pagoda was also singled out for the quality of its in-store execution, which is supported by strong management and staff training programmes. The retailer has worked successfully to educate consumers and introduce and develop a wider range of products, said Hey.
"Winning the Produce Retailer of the Year at the Asia Fruit Awards today is an honour for Pagoda," said Huiyong Yu, chairman of Pagoda Orchard Industry Development Co. "It also shows that the fruit chain store business model in China is well regarded in the global industry."I feel proud and happy and I want to thank everyone in the business for your help and encouragement, and for pushing us forward all these years. I hope that one day Pagoda stores can be seen all over the world."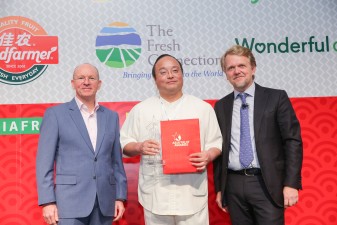 2014 - Produce Retailer of the Year: NTUC Fairprice (Singapore)
NTUC Fairprice clinched the Produce Retailer of the Year Award for its committed and progressive approach to fresh fruit and vegetable retailing. Fairprice was singled out for the way it had managed to look beyond price alone and focus on quality and service, while at the same time catering to every strata of Singaporean society with its stores and the affordability of its products. The retailer was commended for the philosophy and culture it had created within its organisation, and the education of its staff, particularly at store level. Fairprice also won praise for its open approach to working with suppliers, and for its focus on category development.
Deputy CEO of NTUC Fairprice Singapore Tng Ah Yiam was at the reception to accept the award. "NTUC Fairprice is honoured to receive the Produce Retailer of the Year Award, which recognizes our commitment and continuous efforts in providing quality produce at the best value to our customers," said Tng. "This award is only possible through the dedication of our staff and partners, who work tirelessly to ensure we bring only the fresh fruit and vegetables, sourced from all around the world, to our customers"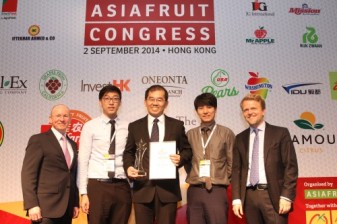 2013 - Produce Retailer of the Year: Tops / Central Food Retail
Leading Thai food retailer Tops/Central Food Retail scooped the Produce Retailer of the Year Award in recognition of the outstanding fresh produce offering of its Central Food Hall and Tops Market formats in particular.
Hey said its high-end formats set new standards for sophistication and in-store theatre, adding that its product range was very impressive.
Tops/Central Food Retail's empowerment of its produce managers and engagement of active in-store sellers were also cited as a key to its produce retailing excellence, while its strategic approach to marketing and brand-building was acknowledged.
President of Central Food Retail, Alistair Charles Taylor, was at the reception with the group's produce executive team to accept the award. "It's a great honour to win this prestigious award," said Taylor. "Our achievements in fresh produce would not have been possible without all the efforts of our produce managers and the loyal support of our suppliers."