Important Information for your application
Exhibitor Address (Contract Partner/Recipient of Services): Please use your company address in accordance with the business registration of your company. You can amend the data for the catalogue address in our exhibitor management system (EMS).
Product Group Index: Please insert at least one number from the Product Group Index. The information indicates what sort of product/service your company offers. You can add more specific information about your products on Online Catalogue later on.
Industry Index: Please set at least one check mark. The Industry Index shows the visitor, what your company does with the products or within the value chain.
Invoice Address: Please very carefully consider which address you enter here. This address will be printed on the invoice document and usually we will also mail the invoice there. Invoice addresses must be the physical address of the company, no post box addresses.
Stand Size: The minimum stand size is 9m². At ASIA FRUIT LOGISTICA all stands up to 18m² are complete stands. This means you rent the space plus our complete stand package automatically. For stands bigger than 18m² please indicate the desired stand form and whether you wish to get a complete stand as well.
Co-Exhibitors: If you do not know whether you will have co-exhibitors or have not come to a full agreement with them, you can provide the form at a later stage before the deadline (to be announced).
ASIA FRUIT LOGISTICA offers exhibitors a range of services around their trade fair participation. Our experienced team will be happy to help you with every aspect of your preparations for the exhibition including:
Stand planning and construction
Stand equipment, technical, and logistics services
Marketing & promotion, press & public relations
Hotel & travel arrangements at special rates
Entry tickets & registration
Catalogue entry online & print
and much more.
Exhibitor Management System
Log in EMS
You can view Order Forms and important information here, please note that all order forms are for reference only.  To order, exhibitor need to access Exhibitor Management System (EMS) >> Order Center and order via ONLINE.  NO hardcopies order will be accepted.
Official Service Providers
The technical service provider will be responsible for:
Stand shell booths
Special design booths
Electrical connections & Lighting
Furniture, Equipment & Plants
Communications & Connections
Water and Drainage, Manpower
Translators, etc.
For more information, please contact:
IES GROUP, PICO INTERNATIONAL (HK) LTD.
Pico House, 4 Dai Fu Street, Tai Po Industrial Estate, Tai Po. N.T. Hong Kong, China
Contact person: Michael Mo / Charles Leung
Email: cs_asiafruit@picoiesgroup.com
Tel: +852 2660 4571 / 2660 4505
Fax: +852 2667 7178
Website: www.pico.com
Logistics Service Provider
Our logistics services for the exhibition are as follows:
Customs formalities and clearance
Obtaining the licenses from relevant authorities for exhibition

 

Arranging shipments on either a temporary or permanent basis
Arranging a customs temporary bond for shipment under temporary import basis
Door-To-Door service for overseas shipment
Local collection for local exhibits
On-site handling service
Return shipment after event
Local handling from warehouse to stand for courier shipments
For more Information, please contact:
Agility Logistics Ltd – Fairs & Events  
Unit 13009W, 13/F, ATL Logistics, Centre B, Berth 3 Kwai Chung Container, Terminal, NT, Hong Kong, China
Tel:  +852 2942 3793
Mobile: +852 9622 3280
Website: www.dsv.com
Contact:
Mr. Sunny Ling
Project Manager
Tel. +852 2972 3793
Email: sunny.ling@dsv.com

1
APT Showfreight Ltd.
31/F. Morrison Plaza, 9 Morrison Hill Road, Wanchai, Hong Kong, China
Tel:  +852 2877 0150
Mobile: +852 9644 0526
Website: www.aptshowfreightlogistics.com
1
Contact :
Ms. Jenny Yau
Assistant General Manager
Tel:  +852 2877 0150
Email: jenny.yau@aptshowfreight.com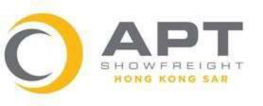 To order services please use Forms H1 - H2 in the Online Service Manual Logistics service overview (PDF).
Our ASIA FRUIT LOGISTICA team is pleased to support you with your promotional activities around your participation. We offer different opportunities to make your participation a success. Promotional services include:
For more detail, please go to Stand Promotion Page.