Impact Award of the Years
2020 - IMPACT AWARD: NOEL SHIELD
The Impact Award was presented to experienced Asia produce executive Noel Shield. Shield has spent most of his 30-year career in Asia working in the fresh produce business, both as a retailer and a supplier.
Shield was recognised for his role in helping to advance the fresh produce business in Asia, especially in terms of supermarket development and brand marketing.
While head of fresh produce at Hong Kong supermarket chain ParknShop in the late 1990s, Shield helped to pioneer the introduction of elements of the wet market into the supermarket store, Hey noted. The complex operation created a breakthrough for modern food retail in terms of capturing fresh food sales in Hong Kong. He also worked with Capespan's Asia affiliate, Metspan Hong Kong, to implement 'active selling' of branded fresh produce in-store with teams of merchandisers.
In 2006, Shield relocated to Thailand where he was appointed president of produce for Tops/Central Food Retail. The group's high-end Central Food Halls gained global recognition for their premium fresh food and produce departments. Shield was instrumental in setting up Central Food's direct sourcing of imported fruits to streamline the supply chain and improve the retailer's range and offering. He helped to drive the growth of high-value categories in Thai retail such as cherries and strawberries.
Outside retail, Shield worked with Metspan Hong Kong in the mid-2000s. He later helped to create JWM Asia in 2017, a joint venture between Capespan and Joy Wing Mau, enabling the Chinese group to develop its pan-Asia presence and expanding sales channels in Asia for Capespan suppliers. As CEO of JWM Asia Holdings, Shield led a campaign to launch Outspan Gems, Capespan's soft citrus brand, in Asian markets in 2018. Most recently, as chief executive of JWM Asia Holdings, Shield restructured JWM Asia Japan (formerly Capespan Japan), paving the way for its sale to Farmind, where he remains an operational consultant to the Japanese company.
"It's been my good fortune and privilege to have been actively involved in the fruit industry across Asia for the past 30 years," Shield reflected. "During this time, I have seen many changes, especially in the development of the retail sector, the expansion of China into a fruit powerhouse, the growth of new products and the change in consumer demand to quality and taste."
"To receive the Asia Fruit Impact Award is extremely humbling and it's something that I share with the many talented people I have had the pleasure of working alongside during my time in Asia."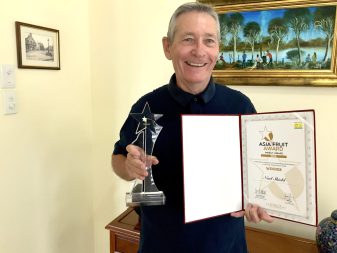 2019 - IMPACT AWARD: YUPAA GROUP
Launched last year to recognise a person, company or organisation that has made a significant contribution to developing the fresh produce business in Asia, the 2019 'Impact' Award was presented to Indian fresh produce importer-grower-distributor Yupaa Group.
Celebrating its 30th anniversary this year, Yupaa was co-founded by husband-and-wife team Ambrish and Yujita Karvat, with operations now managed by their son Parth.
The Mumbai-based company was singled out for the pioneering role it has played in developing fresh fruit imports to the Indian market, which opened up 20 years ago, as well as its work in nurturing high-end domestic production of berries.
"Yupaa was one of the first companies to bring imported fruits into India, and they have remained at the forefront in introducing new fruit varieties, origins and brands to the market," said Hey. "Importantly, they had the foresight to work on developing models to import high-quality fresh fruit to the Indian market on a year-round basis. They have helped to build leading brands in the Indian market from New Zealand, the US, Chile and South Africa among other origins."
Yupaa was also recognised for its pioneering efforts in India's berry industry. Ambrish and Yujita Karvat set up Yupaa in 1989 with a modern strawberry-growing venture in Panchgani, Maharashtra – Parth Farms.
The venture cultivated US varieties that yield large-sized berries and marketed them under the Yupaa brand, one of the first branded fruits in India. Ambrish estimates some 3,000 acres (1,200ha) of strawberries are today grown in India based on this model. Around 20 years later, the family set up a raspberry-growing operation and this year they harvested their first blueberries for the Indian market.
The Indian market's vast growth potential, and Yupaa's solid foundation with a pan-India distribution network, drew global group Capespan to make a strategic investment in the company in 2016, acquiring a 35 per cent share in Yupaa Fresh.
"It means a lot to us for Yupaa's 'Impact' to be being acknowledged and celebrated by such reputable and credible organisations, which have in-depth knowledge of our sector," said co-founder Ambrish Karvat, who accepted the award together with wife Yujita and son Parth.
"This award is truly the result of the impact we could initiate and facilitate by opening India's doors to various [supply] origins, their growers and exporters, and the impact we created for our customers and the consumers of India by bringing fruit from around the world to their plates and adding value in every way possible."