Marketing Campaign of the Years
2022- Marketing Campaign of the Year: ClemenGold
ClemenGold won the Marketing Campaign of the Year Award for its success in building a market for ClemenGold-branded mandarins in China.
Introducing the winner, Asiafruit Magazine editor John Hey said the award recognised ClemenGold's consistent efforts over a number of years.
ClemenGold debuted in China in 2013 with limited volumes to test the market and its appetite for the brand. Sales increased sixfold between 2019 and 2021, reaching a range of wholesale and retail customers. China now forms a key part of ClemenGold's sales strategy, and the market interaction with the brand has exceeded the company's expectations, Hey noted.
ClemenGold is a registered brand for premium quality mandarins, including the Nadorcott variety. The soft citrus variety historically found less favour in China compared with other markets, with an impression among the import trade that traditional, firm mandarin varieties were superior. ClemenGold has developed a strong following in China with its focus on consistent quality and reliability of supply, Hey pointed out. The brand and fruit supply are backed by a robust supply chain owned by ClemenGold's holding company, ANB Investments, which encompasses companies responsible for variety development and commercialisation, nurseries, orchards and state-of-the-art packhouses.
ClemenGold was also recognised for the success of its marketing model in China. The marketer has selected a group of wholesale and retail partners who have embraced ClemenGold's branded approach and used their sales and marketing expertise to conduct a series of innovative activities. These range from high-profile branding on the exterior of buses on one of Shanghai's busiest bus routes to ClemenGold-themed pop-up retail shops and consumer events.
The growing popularity of ClemenGold mandarins in China has also helped pave the way for the launch of LemonGold seedless lemons and the development of sister brands, Sweet C and ClemenOrange.
ClemenGold's marketing manager Adéle Ackermann said it was an "incredible honour" to receive the Marketing Campaign of the Year Award.
"A special word of thanks to all our importers in China for being part of the ClemenGold family," said Ackermann. "This award recognises the effort and strategic thinking that's gone into our campaign messaging and our desire to truly connect with Chinese consumers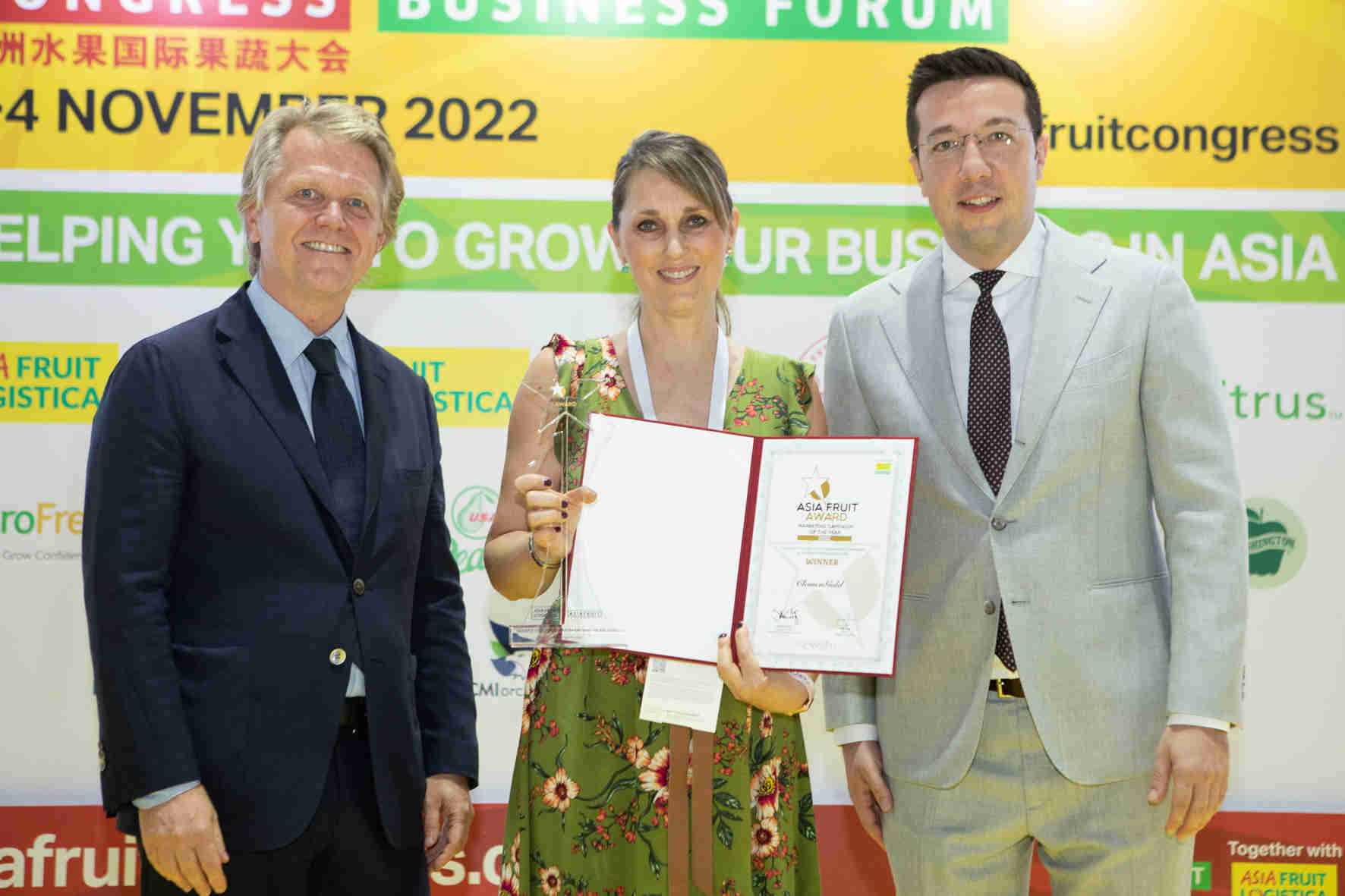 2021- Marketing Campaign of the Year: JOY WING MAU
Joy Wing Mau won the Marketing Campaign of the Year Award for its Joyvio campaign as the official fruit supplier to the China National Women's Volleyball Team. The China Women's Volleyball Team are national icons for generations across China, and the Joyvio partnership ran a series of promotional activities throughout the team's journey to the Tokyo Olympic Games.
Announcing the winner, Asiafruit editor John Hey said the campaign was recognised for the creative ways in which it drew similarities between Joyvio's premium fruit brands and the characteristics of the national volleyball team. This included the production of a series of short films shared on social media platforms.
The campaign was also singled out for its well-targeted approach. Partnering with this iconic national women's team ensured the campaign appealed to female consumers, who represent the primary fruit purchasers in China.
Joy Wing Mau secured enormous brand profile for Joyvio through the partnership, propelled by the team's celebrity status. Digital content, which is signposted with the campaign's dedicated hashtag, has been viewed well over 100m times on social media platforms.
Receiving the award, Echo Yuan, Joy Wing Mau's product director of the strategic brand and category business department, said: "This award is not only a recognition of our efforts with Joyvio, but also an acknowledgement for building a domestic Chinese fruit brand."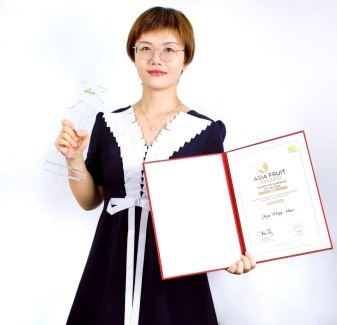 2020 - Marketing Campaign of the Year: T&G GLOBAL
T&G Global, the New Zealand-headquartered global fresh produce marketer, won the Marketing Campaign of the Year. The powerhouse apple grower-marketer was recognised for its pan-Asia efforts to promote and position Envy and Jazz apples as premium brands.
Introducing the winner, ASIAFRUIT MAGAZINE editor John Hey said the award recognised T&G Global's efforts over a number of years, and across a number of markets in Asia. T&G has invested heavily in developing its in-market presence, people and resources, with offices in Japan, China, Thailand, Vietnam and Singapore. This network and infrastructure have enabled the company to develop direct relationships with trade and consumers across these markets, he noted.In Thailand, T&G has made a foray into supermarket retail channels with Jazz and Envy and built awareness via social media. In Vietnam, Envy dominates sales, but T&G has also developed demand for Jazz as a uniquely tangy-sweet refreshing apple. The group has also marketed smaller-sized pre-packed Jazz apples in Asia as a healthy snack targeted at the whole family.
Japan is a tough market to crack for imported apples, but T&G Global has invested to position Jazz as a premium imported apple. The programme includes PR, inspirational recipes from key opinion leaders, and in-store activations to build theatre and create an 'orchard experience'.
Envy is the focal point of T&G's campaign in China, where the company effectively pivoted its promotions to O2O and digital platforms after Covid-19 restricted in-store activations. Tmall live samplings with Chinese actress Liu Tao further strengthened the position of Envy as the ultimate premium apple that engages all five senses.
T&G Global's head of global marketing, Rebecca Chapman, accepted the award.
"Asia is a key region for T&G Global and is pivotal for the success of our flagship Jazz and Envy apples. This award reflects the creative marketing efforts from our Asia team and our passion to bring our growers' great tasting, high-quality apples to consumers all over the world," said Chapman.
"It's a real honour for T&G Global to be recognised with this award, and it will give our global teams the energy to continue to challenge boundaries and connect with consumers in even more innovative ways."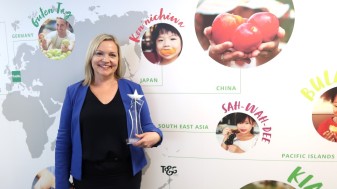 2019- Marketing Campaign of the Year: ROCKIT GLOBAL
Rockit Global, the company behind miniature Rockit apples marketed in convenient recyclable tube packaging, scooped the Marketing Campaign of the Year Award for its new brand campaign in China
China has grown rapidly to account for 50 per cent of Rockit's global sales, and the company launched a consumer-centric marketing campaign in 2019 focusing on the functionality and benefits of Rockit apples.
The campaign aimed to appeal directly to Rockit's target demographics of children (and their carers) as well as busy young professionals. Rockit apples were positioned as a healthy and convenient snack alternative for parents and grandparents collecting children from school, and for young professionals seeking healthy options for snacking on throughout their working day.
With a tagline in Mandarin 'This little goodness you can hold', Rockit undertook a number of promotional activities, including a campaign for Children's Day on 1 June. Rockit also cooperated with leading Chinese fruit store chain Pagoda to launch Rockit apple-themed Pagoda stores to maximise profile and promotion.
E-commerce has been a key sales channel for Rockit in China, and the company made breakthroughs on this front, joining the New Zealand Food Basket alliance, which launched its first New Zealand Flagship store on Tmall Fresh, in addition to opening a flagship store on JD.com.
Introducing the winner, ASIAFRUIT editor John Hey said the dynamic campaign helped to position Rockit apples as "an aspirational lifestyle brand".
Rockit Global's China market manager, Eric Dai, said the company was delighted to receive the ASIA FRUIT AWARD for Marketing Campaign of the Year.
"Ensuring your brand stands out in a crowded market such as China is always a challenge," said Dai. "This award is fantastic recognition of a brand message that was tailored to engage and resonate with Chinese consumers and was well executed across a range of channels."
2018 - Marketing Campaign of the Year: CHILEAN CHERRY COMMITTEE / ASOEX
The Chilean Fruit Exporters Association (ASOEX) and its Chilean Cherry Committee won the Marketing Campaign of the Year for their high-profile campaign to promote Chilean cherries in China during 2017/18.
The US$5m campaign targeted 63 cities across China, seeking to encourage consumption of cherries at any time and for any occasion, with family, friends or alone, while highlighting the fruit's health attributes. Targeting a range of channels, the campaign succeeded in achieving significant profile at retail and consumer levels, and contributed to a record result for Chilean cherry exports to China in 2017/18, which more than doubled to account for over 85 per cent (160,146 tonnes) of total exports.
Introducing the winner, ASIAFRUIT editor John Hey recognised the collaborative effort behind the campaign, with the industry succeeding in securing the financial backing of virtually all Chilean grower-packer-marketers. The campaign followed on from a similar-budget promotion in 2016/17, but it was expanded and extended to include more cities in 2017/18.
"We are honoured to receive this prestigious award, which recognises the efforts and commitment of growers and exporters in Chile in facilitating the demand for our cherry exports to China and contributing through this campaign to strengthening our country's image in Asia," said Ronald Bown, chairman of the board of ASOEX.
"We would also like to thank the Chilean Ministry of Foreign Affairs, the Ministry of Agriculture and ProChile, as well as our growers and exporters, members of the Cherry Committee, our marketing team at ASOEX and advertising agencies in China, for their important support and contribution in making this project a success."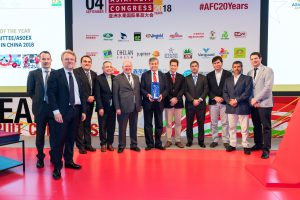 2017 - Marketing Campaign of the Year: BELGIAN FRUIT VALLEY – TRUVAL PEARS
Belgian Fruit Valley (BFV) won the Marketing Campaign of the Year Award for its pioneering work to develop the market for Truval-branded Conference pears across Asia. Introducing the winner, ASIAFRUIT editor John Hey said the award recognised BFV's efforts not only over the past year, but also over the past decade, to build a market for Conference pears in Asia.
The Belgian cooperative has led the way in opening up new markets – in particular China and India, he noted. 'Western' pears represent a relatively new product to many consumers in Asia, who are used to local Asian varieties with very different characteristics. Together with its import and retail partners, BFV has run a highly structured and consistent campaign in China to educate trade and consumers about Conference pears, demonstrating how best to handle and enjoy the fruit.
The company has also run similar activities across a number of other Asian markets. In turn, BFV has helped to pave the way for other pear exporting companies and countries to conduct their own campaigns to promote western pears.
Commercial director of Belgian Fruit Valley Marc Evrard, who has led the Truval Pears campaign, accepted the award."It's a great honour for BFV to be awarded this accolade as a recognition of the faith, persistence, commitment and teamwork for all involved from the Belgian side and especially our Chinese partners, without whom introducing a new product in a new market would not have been possible," said Evrard. "It is fitting that we can today receive this award from an organisation that helped create the meeting ground to bring us and our partners together."
2016 - Marketing Campaign of the Year: MR CHENG, FRUITDAY (CHINA)
Fruitday won the Marketing Campaign of the Year Award for 'Mr Cheng', its campaign to launch a Chinese orange brand with guaranteed sweetness. While Fruitday has built its business as an online retailer of premium imported fruits, Mr Cheng saw the company venture into new territory with a move to develop a homegrown citrus brand. Fruitday selected bingtang oranges grown in Yunnan province, investing RMB20m (US$3m) upstream into a joint venture packing plant in the region. The facility was fitted out with infrared Brix-sorting technology from Compac in order to achieve consistent quality standards and guaranteed sweetness in the fruit. The orange brand was personified as Mr Cheng, a 'romantic gentlemen', in a move designed to create easier interaction with consumers and appeal to female online shoppers in particular.
After a 'beta test' in which it sent the fruit to numerous Chinese celebrities and well-known entrepreneurs, Fruitday conducted another round of promotions. In addition to extensive marketing activities on its e-tail platforms, Fruitday worked with China's leading online match-making site Jiayuan.com, taxi service mobile app Didi, and the largest budget hotel chain Home Inn to make specially packaged and branded Mr Cheng products available in vehicles and hotels.
The idea for Mr Cheng came from the Fruitday team as we were seeking to learn from examples of fruit standardisation and Brix selection we had seen in other parts of the world, and to innovate in China's fast-developing e-commerce market."
Introducing the winner, Asiafruit Magazine editor John Hey said Fruitday's Mr Cheng campaign broke new ground for marketing and branding of Chinese-grown fruit. "Fruitday has not just marketed the fruit on its consistent sweetness, it has given the product a personality, making it easy to create a dialogue with consumers," he noted. "Fruitday is really happy to win the ASIA FRUIT AWARD," said the company's co-founder Loren Zhao. "The Mr Cheng campaign was an important supply chain exploration for Fruitday.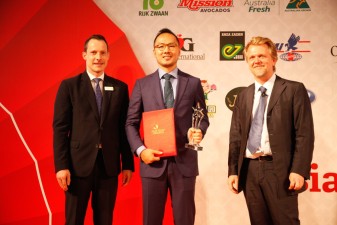 2015 - Marketing Campaign of the Year: Now! In Season (Australia)
The Marketing Campaign of the Year Award was presented to 'Now! In Season', a multi-industry, multi-market promotion for Australian fruits.
The campaign, launched in April by the Victorian State Government in collaboration with Austrade and Horticulture Innovation Australia, takes a whole-of-industry approach to promoting Australian fruits across Asian markets.
Through a mix of in-store tastings, point-of-sale materials and networking events, the campaign promotes seasonal Australian produce. Thailand, Indonesia and the Philippines were the initial focus for the promotion, which launched with stonefruit, table grapes and apples and pears, with the support of the respective peak industry bodies.
Citrus has since been added, with cherries to follow, while the campaign has been rolled out to more markets, including China and Japan.
"The Victorian Government, in collaboration with peak industry bodies, Horticulture Innovation Australia and Austrade, is extremely pleased with the success of the Now! In Season programme," said Brendan Larkin, ASEAN market manager at the Victorian Department of Economic Development, Jobs, Transport and Resources.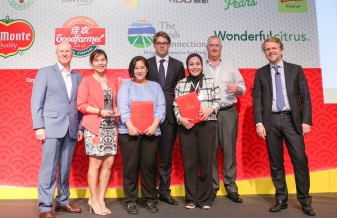 2014 - Marketing Campaign of the Year: Northwest Cherry Growers (US) / Fruitday (China) / TMall (China)
The Marketing Campaign of the Year Award was won jointly by US marketing body Northwest Cherry Growers, Chinese fruit e-tailer Fruitday and e-commerce giant TMall for their promotion to market cherries online in June/July 2013.
Through a system of pre-orders via TMall's B2C online platform, Northwest cherries were packed and delivered from orchard to consumer within 48 to 72 hours. Against the backdrop of one of the most challenging Northwest cherry growing seasons in a decade, the promotion managed to sell in three phases around 200 tonnes of cherries with a range of online competitions and promotions that hugely lifted the profile of the product.
The campaign was singled out as a watershed in underlining the potential of e-commerce as a direct-to-consumer sales channel for fresh fruit marketers in China
It was also commended for its highly targeted approach, directly accessing younger consumers with the means and motivation to buy a high-value imported fruit like cherries.
Keith Hu, director of international operations for Northwest Cherry Growers, said he was very humbled to receive the award. "At Northwest Cherry Growers, we're always looking for new ways to expand both product and brand awareness," he said. "It's fortunate that we're working with two excellent partners."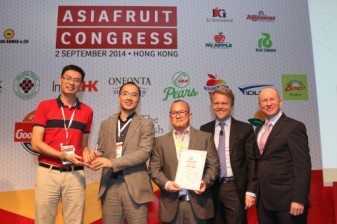 2013 - Marketing Campaign of the Year: Zespri (Asia)
Kiwifruit marketer Zespri won the Marketing Campaign of the Year Award in recognition of the quality of its marketing programmes throughout Asia.
Zespri was chosen for its success in building its brand profile and loyalty among customers and consumers throughout Asia. With core messages focused on the quality, taste and nutritional benefits of its kiwifruit, the company was recognised for adapting those messages to diverse markets and conveying them effectively to consumers via a range of media in a fun way. Its use of social media and school education programmes to engage consumers in China was also singled out as an example of its innovative activities.
Accepting the award, Zespri's president of global sales and marketing Daniel Mathieson said the company was "delighted and honoured" to receive the accolade, and he praised Zespri's Asia-based marketing teams on their work in cementing the Zespri brand in Asia.
Asia is a demanding place to get your product recognised and build consumer loyalty, particularly when you're operating in a hugely competitive and crowded fresh produce space," said Mathieson.