Importer of the Years
2021 - Importer of the Year: SURI AGRO FRESH
The Importer of the Year Award went to leading Indian fruit distributor Suri Agro Fresh. The Delhi-headquartered company was recognised for the advances it has made in its import business over the past several years.
Introducing the winner, Hey said Suri Agro Fresh had invested heavily in its distribution infrastructure, including cold storage and handling facilities. Its role as a national distributor for leading global kiwifruit marketer Zespri has brought further impetus to its import business, and it has also partnered with Rockit Global to launch the branded miniature apple in the Indian market.
While India has faced enormous challenges with the Covid-19 pandemic over the past year, Suri Agro Fresh has navigated the crisis well, Hey said, reflecting the company's diverse distribution channels and product range.
Suri Agro Fresh was also recognised for its work in launching market development and marketing initiatives. Its 'unorganised retail development programme' provides cold chain deliveries and marketing support to India's traditional retail trade and one-shop owners, encouraging these retailers to sell more high-value branded fruits.
The company has also re-launched its flagship Enjoy brand as a consumer-facing healthy lifestyle brand to capitalise on growing health trends among Indian consumers.
Chief operating officer of Suri Agro Fresh, Manav Suri, said the company was "delighted" to receive the Importer of the Year Award.
"Suri Agro Fresh is known for bringing innovation to the industry. We believe resolve, resilience and reform are the ways to survive in the post-Covid era," he said. "This award is a prestigious honour, and the biggest honour goes to the team who have supported our company attain its success."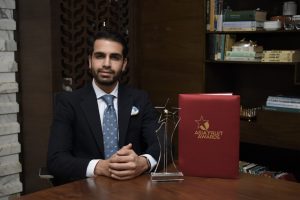 2020 - Importer of the Year: EURO-ATLANTIC
The Importer of the Year Award went to leading Malaysian importer-distributor of speciality fruit and vegetables, Euro-Atlantic.
Set up in 1992 with a goal to expand the range of fruit and vegetables for Malaysian consumers beyond tropical produce, the company was recognised for its pioneering efforts to introduce and develop new products and sources. Euro-Atlantic has played a key role in developing the market for berries, avocados and mushrooms in Malaysia among other categories, Hey noted.
With a strong customer base in food service and hospitality, and a significant percentage of its imports air-flown, Euro-Atlantic has faced a challenging 2020 owing to the impacts of Covid-19. But the company was also recognised for the way it has risen to the challenge, selling more produce online and marketing via social media with online cooking demonstrations as well as making moves towards 'contactless' sampling.
Euro-Atlantic also continues to invest in its infrastructure, facilities and staff training to ensure proper handling of its speciality products. Work is now under way on its new headquarters and warehouse operation and the company recently acquired a new packing facility and warehouse.
Managing director of Euro-Atlantic, Ebby Loo, accepted the award. "We extend our heartfelt gratitude to ASIAFRUIT MAGAZINE and ASIA FRUIT LOGISTICA for this outstanding award," she said. "Greater things are yet to come as we embark on another fruitful year ahead."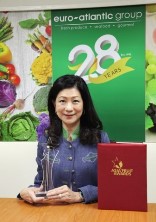 2019 - Importer of the Year: LARIS MANIS UTAMA
Indonesian company Laris Manis Utama (LMU) won the ASIA FRUIT AWARD for Importer of the Year.
Established 23 years ago, the company was recognised for its market-led approach to developing Indonesia's fresh fruit import business, which has been driven by significant investment.
LMU has invested heavily in its logistics and cold chain infrastructure, with state-of the-art distribution facilities in Jakarta and Surabaya. It has also developed its network of wholesale branches across Indonesia, helping to boost access to high-quality imported and domestically-grown fruits for consumers across the archipelago, said Hey.
The company was also recognised for its proactive and structured approach to marketing imported fruits. Besides running retail campaigns for leading brands of imported fruits, the company recently launched its own brand My Fruit, which it is promoting in traditional retail channels, brick-and-mortar stores, online and on trucks.
LMU has also begun selling fresh fruit online with various e-commerce partners, as well as launching its own fruit retail shops under the Frestive banner.
"We are extremely delighted and honoured to receive the Importer of the Year Award from such prestigious organisations," said LMU vice-director Hendry Sim on accepting the award. "This award is a confirmation to my team back in 26 cities across Indonesia that our dedication, innovation and hard work over many years in fresh produce has brought industry recognition."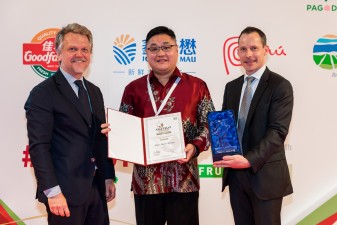 2018 - Importer of the Year: IG INTERNATIONAL
India's IG International scooped the ASIA FRUIT AWARD for Importer of the Year. Since establishing its import business in 1999, IG has become one of India's premier fresh fruit importers, handling 50-plus varieties of fruit from more than 20 countries.
IG has invested heavily in cold chain infrastructure to support the growth of fresh fruit imports, establishing a national network of facilities and trucks. Such infrastructure has helped the company to deliver fruit with optimum quality and taste to Indian consumers while also giving global suppliers more confidence to ship large volumes to India, Hey noted.
IG was also recognised for its pioneering role in expanding the range of imported fruits available to Indian consumers. Apples dominate India's fruit import market, and IG has worked with leading global suppliers to introduce a number of premium brands. The company has also helped to grow the market for a range of other fruit categories such as pears, kiwifruit, citrus and, more recently, berries and avocados. IG has taken a proactive approach to promoting imported fruits to Indian consumers, conducting extensive tastings, deploying high-profile brand ambassadors and introducing new packaging.
Accepting the Importer of the Year Award, IG International director Tarun Arora said he was "extremely honoured and humbled".
"We are earnestly grateful for this recognition we have received today," said Arora. "It is testimony to the tireless efforts my organisation has, over several decades, put into matching up to the highest standards expected from a premier fruit importing company."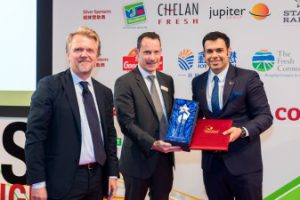 2017 - Importer of the Year: FRESHMART SINGAPORE
Family-run business Freshmart Singapore scooped the ASIA FRUIT AWARD for Importer of the Year. Established in 1980, the Singapore-based fresh produce importer and distributor supplies over 100 supermarkets island-wide as well as several food service and wholesale customers.
Freshmart was recognised for the strength of its team and operations, its focus on building supplier and customer relationships, and its leading role in developing several categories in Singapore's fruit import market. Hey singled out the company's work in growing the berry category, where it has been both aggressive and progressive in building a 52-week supply.
He also highlighted the company's efforts to build demand for avocados and organic produce in Singapore, which have been underpinned by consistent trade and consumer education. Kevin Koh, director of Freshmart and son of the company's co-founder Peter Koh, accepted the award.
"We are humbled to be receiving this award and recognition from the industry as it reaffirms our company's mission and values," said Koh. "This would not have been possible without all the support our stakeholders have given us and the confidence our customers have placed in us."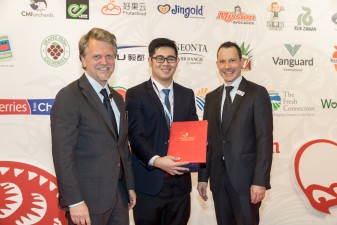 2016 - Importer of the Year: JINWON TRADING (SOUTH KOREA)
South Korean company Jinwon Trading scooped the Importer of the Year Award in recognition of its leading position and pioneering role in the country's fresh fruit import business.
As one of Korea's oldest agricultural trading companies established in 1979, Jinwon has developed substantial warehouse and cold chain infrastructure from port to market as well as significant in-house expertise. The company sources a wide range of products from across the world, supplying multiple channels, including retail, wholesale, online sales and TV home shopping. It has forged strong relationships with leading global suppliers as well as major retailers.
"We've worked very hard with our team members not only this year, but for the past 40 years," said Jinwon's president Chang Hwa-Oh. "To receive this Award is a reward for our past efforts, an honour for the present and an encouragement to remain the best produce importer in the future."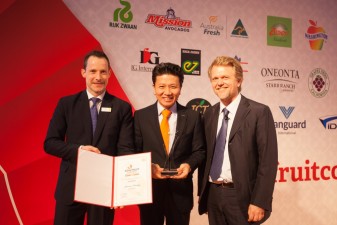 2015 - Importer of the Year: Golden Wing Mau (China)
Chinese group Golden Wing Mau (GWM) won the Importer of the Year Award for the impressive strides made by its import business.
Established in 1998, GWM has evolved rapidly from its origins as a small Shenzhen-based trading company to become an integrated fruit group with operations in production, packing, storage, import-export, wholesale and retail distribution. An early mover to develop its retail distribution business in China, predominantly with domestically-grown fruits, GWM's network of supermarket customers has increasingly come into play for its imports in recent years. The company has also developed a strong network of wholesale market-based operations, as well as supplying emerging retail channels, such as e-commerce and specialist fruit shops. On the import procurement side, GWM has built its international sourcing relationships, aided by Capespan's acquisition of a 25 per cent stake in the company in 2010.
The company has also become a leading distributor for Zespri kiwifruit in eastern and southern China as well as handling key national retail accounts.
"This is the best affirmation and encouragement GWM has received from the global fruit industry. I'd like to extend my gratitude to all our overseas partners, and thank them for their trust and support. I'd also like to express my sincere thanks to our GWM people for their persistence and hard work." said president and CEO of GWM, Mau-Wah Liu.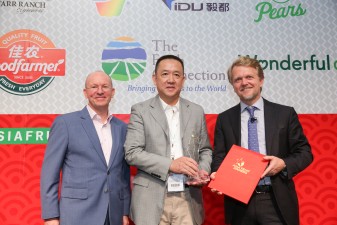 2014 - Importer of the Year: Vachamon (Thailand)
Thai fruit importer Vachamon was selected as the Importer of the Year in recognition of its impressive growth in the table grape business in particular, and its trailblazing market development efforts. Introducing the winner, Asiafruit Magazine editor John Hey said Vachamon had played a pioneering role in building brands and growing the market for a range of products and suppliers in Thailand. The most notable example is its work on apple marketer Enza's proprietary varieties Jazz and Envy. As well as developing the market for imported fruits within Thailand, Vachamon was recognised for its work in extending their reach into neighbouring markets in the Greater Mekong region, such as Laos, Cambodia and Myanmar.
Vachamon's managing director Wipavee Watcharakorn accepted the award. "We greatly appreciate receiving the Importer of the Year Award," she said.
"Over the past 10 years, we've been working very hard to develop the business in Thailand and neighbouring countries."
"We'd like to thank all our business partners who have supported us with the quality, the commitment to supplying us on a programmed basis and the investment of trust in us to develop the market, particularly under a sole agent model."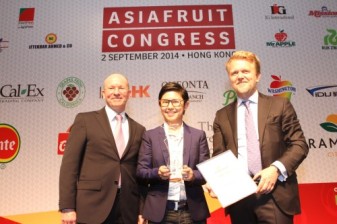 2013 - Importer of the Year: Chop Tong Guan (Malaysia)
The Importer of the Year Award went to Malaysian company Chop Tong Guan.
The Penang-based importer was recognised for its success in expanding its operations and developing a distribution network across Peninsular Malaysia.
Introducing the winner, Asiafruit Magazine editor John Hey said Chop Tong Guan's investments to maintain cold chain, food safety and traceability standards had helped it to become a key supplier to international retailers, and it had taken the initiative to understand and meet their requirements.
Chop Tong Guan's director Koay Swee Aik accepted the award. "I am really delighted to receive this award as it reaffirms our business principles, our team's dedication and our partners' trust in us as a leading organisation," he said.
"It further motivates us in our relentless efforts to upgrade our operations and strengthen our partnerships with suppliers and clientele."